8 Day New Year's Eve Amazon Retreat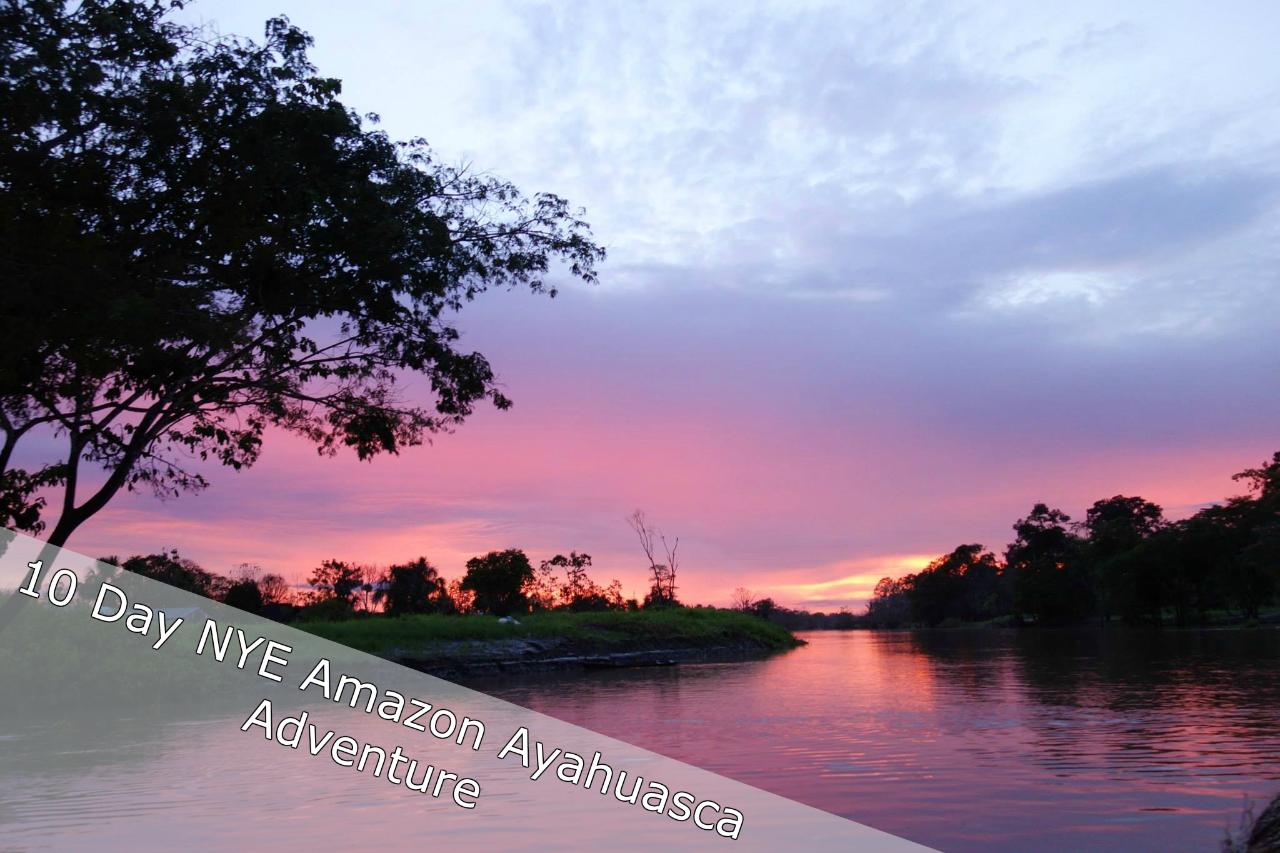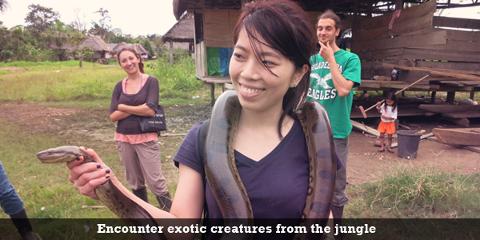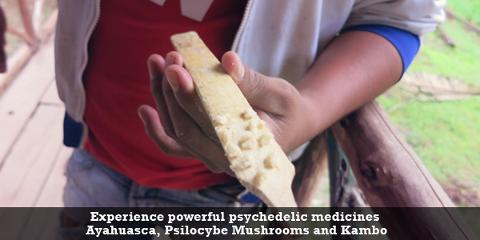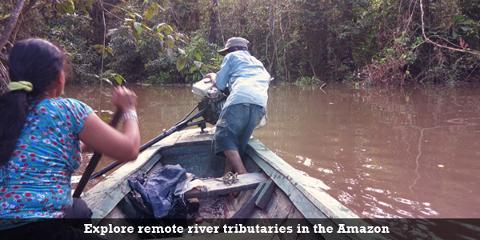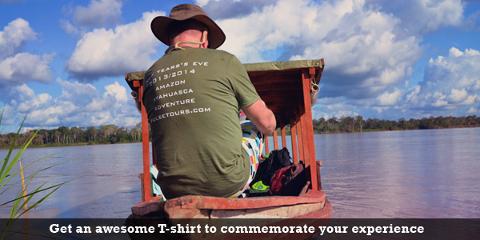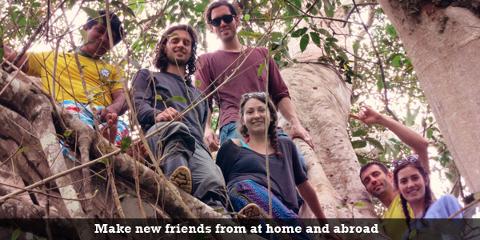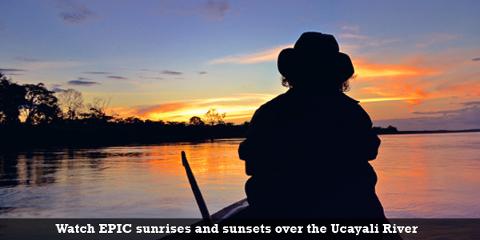 Duration: 8 Days (approx.)
Location: Iquitos, Loreto
Product code: 8 Day NYE AMZ
Ring in the new year by shedding old habits, negative energies, and patterns of thinking that are holding you back from achieving the health, happiness, and overall well-being that you deserve. Experience all of the sacred ceremonial plant medicines we have to offer, and help us welcome the year ahead as our lighter, brighter, more authentic selves.
What's Included:
4 Ayahuasca Ceremonies with authentic Shipibo Shamans
1 Kambo (Frog Venom) ceremony with local Matses Shaman
1 San Pedro Ceremony

3 Floral baths
Walking Tour of Belen Market in Iquitos.

7 nights/8 days double or triple occupancy accommodation at Arkana Spiritual Center in primary Amazon rainforest paradise
1 Vibrational Soundbath
1 Breathwave Session

Pickup/drop off in Iquitos, Peru (International flights NOT included) * See more about Pickup info below
Daily jungle excursions with professional local jungle guides
Unlimited
access to 88 sq. meter fitness facility including yoga mats, Onnit
kettle bells, battle ropes, steel maces, Moving Zen suspension straps,
punching bag, gloves, pads, jump ropes, spinning bike and free weights
Internet connection through portable USB modems
All
meals at the center (dinner is not served on ceremony nights, unless
guests choose not to participate) plus unlimited fruit, drinking water,
and tea
Lifetime 10% discount on return visits to Arkana Spiritual Center and membership to exclusive Facebook group.
Optional Add-On: "Sapo Ceremony" (5-MeO-DMT). From the Sonoran Desert Toad.
ITINERARY:
Day 1, Iquitos/Arkana Spiritual Center
After a delicious Ayahuasca-friendly breakfast, begin the day with a walking tour of Belen Markets. This floating city (a.k.a. the Venice of Peru) is not what you may think. It's the central hub where Iquitos people trade their produce, wares and meat. While not the prettiest of sights and smells, it is an important and fascinating staple of Iquitos living, and certainly offers a unique cultural window to look through. We would be remiss if we failed to show you this iconic marketplace during your international trek to the heart of the Amazon rainforest!
After a visit to the marketplace, and perhaps some interesting purchases of the sacred ceremonial wood palo santo or some exotic jungle fruits, load into a private van for our ride to the small port city of Nauta. Along the way, we will stop for a traditional Peruvian meal at a delicious family-owned lunch place. Nauta is where we will catch our boat transport to carry us up the Marañon River to the confluence of the Ucayali, where the Amazon River officially begins. The ride is slow but enjoyable, and you can relax or have a snooze on the padded bench seats on the boat. You may see some freshwater pink dolphins jumping around the boat. These friendly creatures turn pink because of their diet. Once we get to the confluence of the Marañon, Ucayali and Amazon, you can jump out of the boat for a quick swim at this geographically significant location.
Arkana Spiritual Center is located on the banks of the 1.5km wide Ucayali River. This location provides for an open river view while backing onto the Pacaya Samiria National Reserve, which is 2.2 million hectares in size. Settle into your new home for the week, enjoy a dinner and brief discussion about the medicines, and then take part in a Nunu ceremony before retiring for the evening. Nunu, also known as Dust of the Elders, is finely ground wild tobacco, cacao, and other plants from the jungle, and the ceremony conducted by a shaman of the Matses tribe, where the medicine originates. Cleanse and open the nasal passages, heal the sinuses and awaken your sense of smell to the surrounding jungle. Energetically ground yourself to the world around you, clear the mind and open your third eye to begin your work with the medicines.


Click here to learn more about these sacred plant medicines described below.
Day 2, Kambo Ceremony, Ayahuasca Ceremony
For those wishing to experience the indigenous traditional medicine Kambo, we will host a ceremony first thing in the morning. Kambo is the venomous secretion from a type of green tree frog, known as the "Monkey Frog", or, "Phyllomedusa bicolor", which is its scientific name. The frog is captured by a Matses shaman we work with, in order to secrete the venom, and she is always released back into her natural habitat without being caused any harm. In defense, after being captured, the frog secretes a syrupy white fluid from glands on its back. The secretion is then wiped off with an oversized wooden Popsicle stick-like object. It's then dried and preserved for up to nine months.
When we administer the medicine, we scrape the dried secretion off of the stick, moisten it and roll it into a small ball. Then, we ignite a thin and short twig, about the size of a ball-point pen cartridge, until it has a glowing red ember. We momentarily touch a spot on your arm with this hot ember, which burns just the top layer of skin. The skin is then scraped off and the tiny ball of frog poison is applied to the wound. This can be done more than once for a single dose.
Within seconds, your heart will begin to race as the body responds to the venom. Your body temperature will rise as your immune system kicks into overdrive in order to process the venom. This is essentially how the medicine works; by flushing out disease and toxins through your body's response to the venom. For about fifteen minutes, you will experience these effects along with mild body vibrations and altered perception. You may experience a physical purge of your stomach or intestines. The ceremony concludes with a dousing of your head with water over a wide bucket, and rubbing lime halves into your temples. Within 20 to 30 minutes, you will feel normal and more energized.
After the Kambo ceremony we'll have breakfast and then have 1-on-1 consultations with the head Shaman (and translator) to discuss your intentions and your ideal outcomes from your Ayahuasca experience. Our Shipibo shamans will guide you as you begin your healing journey and integrate your intentions into the personalized icaros (songs of the plants) that they sing directly to you during the ceremony.
All this is done in the native Shipibo dialect, passed down through our lineage of Shamans from generation to generation. This time-honored tradition has a far-reaching ancestral legacy of plant spirit shamanism, in which the knowledge and healing energies of the plants are transmitted through the icaros sung in ceremony in order to heal a wide range of mental, emotional, spiritual, and physical ailments. With their rich cultural history and expansive knowledge of medicinal plants of the Amazon, our loving tribe of "light workers" cleanse and purify the space and set the stage for truly profound and deeply healing work.
That afternoon, we'll jump in the boat for a cruise to Monkey Island. This interesting location is a favourite hangout spot for several species of wild monkeys. Although wild, these monkeys are accustomed to visitors of human descent, and take advantage of our generosity. Your guide will bring along some fruits and call them down to the boat. If they are in a good mood, they might jump on the boat and join us for a visit. Just be sure to keep your loose valuables packed away, and keep an eye on your bag! These little guys are curious and love to play with manmade objects … so much that they'll steal them and take them up into the trees!
You can spend the rest of the day meditating, stretching, snoozing, reading, joking around or strolling around the Center and adjacent village. At about 6:30pm, we will enter the Maloca and get settled in for the ceremony.
Each person will approach Maestro Wiler, Maestro Gilberto and Maestra Angelita (our three Shipibo shamans), where they will pour a small cup of our pure, high quality Ayahuasca brew. Then, return to your comfortable mat around the inner ring of the Maloca, which is where you will remain during your experience.
In about 20 to 45 minutes, they effects should begin. It can happen slowly or quickly, there are no guarantees. You may feel warmth surging from your stomach throughout your body. You may become very relaxed and almost melt into your mattress. Your perception may begin to shift. We recommend sitting up in a meditative pose during this time to keep your energetic fluidity vertical, as a conduit between the heavens and the Earth. From here your experience will intensify until you are fully engaged with the spirit of Mother Ayahuasca. Your experience may be more physical than visionary or vice versa. Again, there are no guarantees. We ask only that you strive to surrender, have faith in the process and trust in the medicine to show you what you need to see.
We've started the ceremony a bit early today so it will be finished early enough to celebrate the striking of midnight – the first day of 2017. We'll have some special activities planned for the celebration.
Day 3 (Dec 31st) – Ayahuasca Ceremony
Join us in saying goodbye to 2018 and ring in the New Year! We begin this day with a morning meditation to welcome the year ahead, with a new perspective and a clean slate, radiating love for all things in this meditation session and beyond.
The morning after the ceremony provides an opportunity to share your experience with the Shamans and the group, which can help you gain clarity, integrate your lessons, and set your intention for the next ceremony. While all activities are completely optional, we find that sharing your experience and learning from others' ceremonies can be a vital and extremely profound part of the healing process. Many guests claim that the new perspectives gained during group shares were as powerful as the ceremonies themselves. Nevertheless, private consultations with Shamans and facilitators are possible for more sensitive healing or issues that feel too personal to share with the group. At the Center, we also have a bilingual Western female facilitator and a local female shaman on staff, so both male and female guests can easily find an understanding female ear for more sensitive conversations.
That afternoon, take a quick boat ride to go visit and learn about a sloth! These lethargic creatures truly do live up to their name, which you get to see firsthand as you hold, feed, and learn about the lifestyle and habitat of sloths in the Amazon jungle. Afterwards, enjoy a floral bath with medicinal and fragrant flowers and plants of the jungle, before preparing for your ceremony that evening. Tonight you will partake in your 2nd ayahuasca ceremony, continuing the work you started the previous night.
Day 4, – Rest Day
You've had a few big days and it's time to process and recuperate. You can choose between resting and relaxing at the Center or partaking in the jungle excursions that day.
After the morning's group share and lunch, we make a visit to the small and friendly Amazonian village of Puerto Miguel. Here is another interesting cultural window. This little community resides on the banks of the Ucayali and Yarapa River, where they hunt, fish and live happy lives within their community. It's interesting to see how these people with very little wealth and basic lifestyles are statistically much happier than we of the Western World. If you fancy a good soccer game, the locals will challenge us any day of the week. We've never won, but have a deal when we finally do someday: When the "Gringos" win, the locals must bow and name us "The Kings of the Jungle." Until then, we must continue to buy them a case of beer every time they beat us.
Your second option happens later in the evening, after dinner. You can go out again in the motorized canoe for a nighttime cruise through jungle lagoons in search of alligators. These aren't the same type of alligators you may be thinking of, rather small Caimans, which can grow up to 8m long. Your expert local jungle guide will quietly stalk these alligators in the dark with his flashlight, looking for the red glare from their eyes on the surface of the water. Then, he'll coast up to them at a snail's pace and turn the light off. You will be amazed as your guide can remember the exact location of the alligator after he turns out the lights, and then he snatches the alligator out of the water with his bare hands! He won't grab a big one because they are too strong, but he'll bring a small one into the boat so everyone can pass it around and have a close up look at the Amazonian Caiman.
Day 5 – Ayahuasca Ceremony
In the morning, we'll journey by foot into the jungle for an awesome daytime trek. This gives you a once in a lifetime opportunity to see some of the creatures of the Amazon in their natural habitat. Your expert local jungle guide will do his best to track and capture wild creatures with his bare hands, which allows you to see the creatures face to face and learn about their biology.
After lunch, you can board a motorized canoe with your expert local jungle guide and cruise the river in search of piranhas. Piranha fishing is an interesting process. First, your guide will find a good location. Then, he'll give you a short pole with a 2m hooked fishing line attached to it. You bait the hook with a little piece of chicken, then make some commotion in the water with the end of the pole and drop your hook in about 1m below the surface. Soon enough, you may start to feel some nibbles. If you're quick enough, you can snag a Red Piranha. They might be small, but they are quite tasty. Bring your catch back to the Center for a fishy little snack!
Spend the rest of the day relaxing at the Center. Ground and center yourself for the ceremony tonight. We will have a sound bath meditation that evening to center yourself in preparation for the night ahead. Your third ceremony will start soon after.
Day 6 – Ayahuasca Ceremony
Go at your own pace for the majority of the day to rest and reflect on your experience from the previous night. Meditate, do yoga and reenergize for the fourth and final Ayahuasca ceremony this evening. Tonight, you will conclude your experience with this sacred medicine and seal off your energetic permeability, so you can return to modern life in the Western world, stronger, clearer and healthier than ever. The shamans will sing you a special song called an Arkana, which seals in the energetic healing that's taken place.
Day 7 – San Pedro Ceremony
San Pedro is a sacred plant medicine, also known as Grandfather Medicine . The ceremony is typically conducted during the day, and thus you will skip breakfast and gather in the maloca (ceremonial hut) at 10 am. The facilitator will introduce the ancient Andean shamanic plant medicine, also known as Huachuma.
San Pedro is a gentle and loving medicine, which can lift the veil of human perception to allow you to see the world for the energetic and spiritual flux that it actually is. Offering introspective healing and a heightened level of awareness, San Pedro is the perfect transition into the world of Ayahuasca shamanism, which can be more intense and potentially difficult.
During your San Pedro healing ceremony, you'll be offered a succulent fruit salad which will not only entice your senses but make you appreciate the life-giving gifts that nature offers us. After you finish your juicy fruit salad, you'll be invited to go on a short boat ride on a guided tour of a beautiful and hidden surprise location!
After a full day of healing, enjoy a delicious and healthy dinner before relaxing, bonding, and processing your experience the rest of the evening.

Day 8, Jan 5 – Iquitos
This is officially the last day of the retreat. After breakfast and a final group share, the facilitators will discuss tips and advice for integration back home. They will share stories, go over potential challenges, and answer any questions you may have, in order to best prepare you to carry your lessons back home with you and act upon them. Then we'll prepare for an afternoon departure back to Iquitos. Return to the river for a cruise up the Ucayali and then down the Marañon until we reach Nauta. Load into a private van and make the 1.5 hour drive back to Iquitos. Once we arrive, we can head down to the waterfront and gather at a restaurant of the group's choice as we celebrate our shared experiences during our final dinner together as a group (each guest is expected to pay for his/her dinner).

One final note:
Ayahuasca is a powerful medicine that offers us the opportunity to understand our true nature, by shining a light onto our darkness, and holding a mirror up to our fears, negative thought patterns, and self-limiting beliefs. We provide the environment and expertise of a team of highly skilled, loving, compassionate Shamans and facilitators to guide you through the process of awakening, of choosing differently, healing, and expanding. It is a slow but steady path towards freedom – from fear, from illusion, from self-constructed boundaries – resulting in a lighter, brighter, more authentic self, and the full experience of love. It is our honor to help you on this most fulfilling of all journeys: the journey back home.
Taxi/ Pick-Up Info:
All passengers
will be picked up from hotel La Casona on Sunday at 8 am, we meet at the
courtyard for check-in.

If passengers get delayed, private transportation can be arranged to the center for an additional cost.